How to Find the Right Shower Head Filter for You?
Is your skin and hair being negatively affected by hard water? Many households in the US have hard water. According to United States Geological Survey, hard water is high in dissolved minerals like calcium and magnesium. Overtime, you may notice skin irritation, itching and dryness. By having clean and purified water, this can help change your life and the way your body feels.
Chlorine and chloramine are common compounds used to disinfect water. While that works to keep our water safe from contaminants, chlorine can be harmful to the skin and lungs.
By purchasing a simple filtering system for the shower head, that can help remove contaminants. This will help reduce the limescale build up and provide a cleaner shower experience.
Investing in a shower head filter is an affordable option to get rid of hard water impurities as well as purify the water you shower in.
In this article, we will discuss what to look for in a shower head filter and how to choose the best shower filter that works for you.
Read here for the best non toxic sunscreen.
What's Getting Filtered?
Depending on the type of shower filter, various things are getting filtered by this product of technology.
Generally, it filters what we call contaminants. The most common thing shower filter filters are chlorine and chloramine. Some units also filter fluoride. In general, most shower filter address sediment, metals, scale build up and odors. All of these can potentially be harmful to sensitive skin.
Types of Shower Filters
There are two different types of shower filters.
Inline Shower Filters
Inline shower filters are built directly into the waterline. It is designed to filter all the water that goes through the showerhead. Inline shower filters are more expensive to install but they generally have better filtration results and a longer lifespan.
Filtered Shower Heads
Filtered shower heads are like normally shower heads but have a built in shower filter that filter contaminants. This type of shower filter is a quick solution to hard water issues. It is also more cost effective and can be installed within minutes.
How Do Shower Head Water Filters Work?
Shower filters work in steps as water passes through the filter. The fundamental concept of a water filtration system, is to use a shield to physically remove any silt, debris, or other particles from the water.
Granular activated carbon (GAC) and activated carbon are common water filtration methods. This method works through adsorption. It is ideal for drinking water applications. As for showers, as most people shower in warm water, activated carbon isn't the best option.
Instead, Kinetic Degradation Fluxion (KDF) eliminates dissolved chlorine by converting chlorine into materials that will not aggravate your skin. It is a granular zinc alloy that exchanges electrons with waterborne contaminants. This is also barteriostatic which inhibits bacterial growth.
In more advanced field, by exchanging the magnesium and calcium ions present in hard water with some other ions like sodium or hydrogen ions, ion exchange is a method used only to soften hard water.
These hard minerals are physically removed via ion exchange, as opposed to scale inhibition, which reduces limescale. It also makes water appropriate for purposes where it is maintained at a steady high temperature, such as in industrial coffee machines.
How Often Does the Filter Need to be Changed?
It really depends on how often people take a shower and depending also on the brand of the filter. But most common life span of a filter is between 5 to 6 months if you use it daily. And if it's not on daily use it can go up to 9 months.
Things to Consider When Shopping for a Shower Head Water Filter
Appearance
This should be the last consideration whenever looking for a filter. Many shower filters come in different shapes and designs. However, consider functionality first.
Filtration Technology
There are different types of filtration systems and the best way to work out what will work best for you is to research your area and the contaminants that are commonly present in your area. Different shower filter eliminates different things. Otherwise, you can look at an all-in-one shower filter that handles hard water.
Durability
It is important to work out how long a shower filter last. Working out the size of the shower filter as well as how often you shower, can help determine the lifespan of the filter.
High-performance shower filters are very durable and can last between 6-8 months.
Features
Some shower filters offer different settings, like rainfall and power massage. Take into account these features when you are choosing a suitable shower filter.
Cost over time
This focuses on the efficiency and the overall impact of the product on your daily life. You can invest in expensive ones rather than those that are cheaper if you can see that the quality is worth the price.
Will a Shower Head Water Filter Reduce Water Pressure?
Yes, it is common to notice reduced water pressure after installing a shower filter. This is because water has to pass through a filter media before leaving the showerhead.
Will a Filtered Shower Head Soften Water?
No. The focus of shower head filters is designed to filter out harmful contaminants, such as chlorine which is a chemical normally found in residential waters.
In order to reduce hard water, you will have to look into water softening sytems.
Best Shower Filter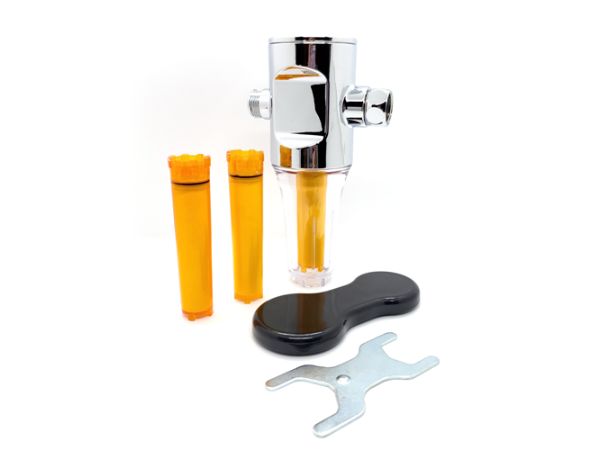 Sonaki Inline Shower Filter
Getting an activated carbon filter is one of the best options for you when getting a new showerhead for your bathroom. This filter has the ability to remove bacteria that may be found in the water, chlorine, heavy metals, rust, and any particles that may be harmful to the skin.
However, the lifespan of the cartridge is only three to six months, which is shorter compared to other brands.

QwenchPure KDF-55 Shower Filter
4.1 stars, 362 reviews
If you are searching for the best KDF in line shower filters in the market today, the QwenchPure KDF-55 Shower Filter is a great option for you. This type of filter is made up of zinc and copper and works for hot showers.
QwenchPure KDF-55 Shower Filter can dissolve chemicals in your water systems such as mercury, cadmium, arsenic, and aluminum. It also has the capacity to dissolve chlorine which is mostly found in our waters.
The electrical charge coming from KDF filters is unnoticeable when you are having a shower but it sure can dissolve various chemicals through it.
You can install this product by screwing it onto the main line. You can enjoy QwnchPure KDF-55 Filtered water in no time.
The lifespan of this product is about five to seven months from the date of its installation.

Aqua Earth 15 Stage Shower Water Filter with Vitamin C
4.4 stars, 9786 reviews
If you have problems with too much chlorine in your water whenever you are having a shower, the Aqua Earth Vitamin C filter can neutralize this and other unpleasant odors. This shower filter is simple to install. Simply attach it to any existing shower head.
However, the downside of this product is it does not have the ability to filter out other contaminants, dirt, and impurities that you find in your water supply.

GE Universal Shower Filtration System
4.1 stars, 445 reviews
This great shower filter can reduce the adverse effects of having too much chlorine on the skin and hair by regulating it. The downside of this shower filter is that it is difficult to unscrew when it comes time for a replacement.
This shower filter required to be changed after six months or depending on the quality of filtered shower water or the tap water, from your supply system.

PureAction Water Softener Shower Head SH388
4.2 stars, 3661 reviews
This shower filter can filter up to 99.9% of contaminants such as sediments, calcium, and rust iron.
It offers a 2 stage purification filtration system and has 3 different shower settings, power rain, massage and rain. Catridge needs replacement every 6-8 months.

CraterAquaSystems 15 Stages Shower Water filter with Silver Layer SF-15ST
4.4 stars, 3054 reviews
This product has a multi-stage shower filter that can filter out almost 97% of chlorine not including other components such as debris, metals, and rust.
It also has a silver layer that breaks down bacteria as well as increases the absorption function of active carbon by 5 times.

PureAction Luxury Filtered Shower Head SH888
4.2 stars, 3946 reviews
This type of showerhead has three options or settings that will suit your needs. You can choose the "rain" setting if you want to have normal pressure. The "power rain" option produces more water and pressure when you use it.
On the hand, the "massage" setting can promote relaxation in your head and body. It also has a standard size that can be attached or mounted to most showers.
Simply remove your existing shower head and install this to filter up to 99.9% of sediments, remove chlorine, heavy metals, and dissolved solids present in hard water such as chrome, calcium, and iron.

AquaHomeGroup 15 Stage Shower Water Filter Ceramic Balls with Vitamin C Hard Water Shower Filter
4.5 stars, 17281 reviews
This type of filter system filters out harmful chemicals and promotes safe and clear water that will prevent skin diseases such as allergies and eczema.
It is also beneficial for your hair and skin. It is effective in removing chlorine and chloramine fluoride. It has consistent water pressure when you shower.
The reviews on this product are very positive. However, the downside of this water filter is having a high water bill because of its high pressure.

Spark Pod High-Pressure Shower Head with Filters X0021TUPSL
4.5 stars, 4272 reviews
If you are looking for a brand that provides a high-pressure shower filter, this is the perfect one for you. It can also remove impurities in your water.
This shower filter contains an enhanced version of high-grade activated carbon, Vitamin C and mineral/ceramic balls, which filters twice more heavy metals, chlorine, and chloramine.

AquaBliss Revitalizing Shower Filter Chrome AB-SF100
4.4 stars, 44866 reviews
This product contains rejuvenating properties which are good for the skin. It is also made up of premium-grade materials that can help withstand chemicals and constant usage for months.
It has the capacity to remove impurities in your water and have a soft feeling after having a shower.
However, there is only 75% filtration for this shower filter compared to those brands that offer almost 98% of filtration of tap water.
Choose the Shower Head Filter That Works for You
I recommend AquaHomeGroup 15 Stage Shower Water Filter Ceramic Balls with Vitamin C Hard Water Shower Filter because of its amazing features.
This product can be used by your kids and even your pets. It can also prevent any skin problems and filter out impurities.
There is a faster flow option for this filter and you can also regulate it. The product is worth the price and can be used in the long run.
Getting a shower head filter can be confusing especially if you have a lot of options in the market. However, getting one that can provide the needs of your family and is within the budget is considered as the right choice.