Many people look forwards to their flights, whether they're traveling to a new destination, or visiting friends and family. However, if you're carrying a baby on your lap for the whole duration of a flight, you might not be as thrilled.
You may need to hold the baby in your hands for hours if it's a long-haul flight. Not only is this uncomfortable for you, but it is also not the coziest choice for the baby.
Most parents opt for an airline bassinet as an ideal alternative. If you have never used one before, or know nothing about it, you may shy away from this option.
This article is here to cover everything you need to know about using airline bassinet seats on flights.
We will answer some of these popular questions:
What is an airline bassinet seat?

Do all airlines provide a bassinet seat?

How to get a bassinet airplane seat?

What are bulkhead seats and what are the pros and cons of booking one?

How to book the baby bassinet?

Understanding different seating arrangements.

How to use the bassinet properly
If you are ready to discover and learn all about airline bassinet seats then stop hesitating; read on!
Otherwise, here is an article with information on flying with a car seat as well as the best FAA approved travel car seats.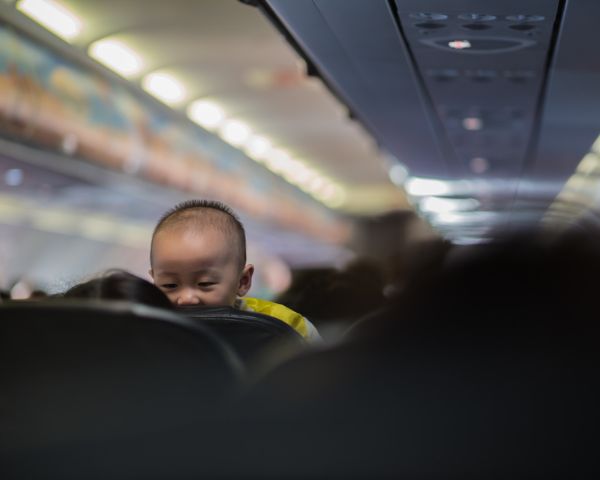 What is a Bassinet Seat?
Starting right at the top, what is a bassinet seat? Also called an airplane bassinet seat, or a sky cot is a small rectangular bed with uplifted sides that is used on planes. The bed is specifically made for lap babies, babies you would ordinarily carry on your lap for the flight.
The seat is usually fixed to the airplane's bulkhead wall. This wall is the vertical support panel, usually behind another cabin, the toilets, or the gallery. The purpose of an airline bassinet is to allow the baby its own place to lie and sleep during the flight.
What is a Bulkhead Seat?
The meaning of a bulkhead seat might not seem like it relates to the topic at hand, but it does. The bulkhead seat of an airplane is directly behind the bulkhead wall. This is usually a dividing wall near the toilets, cabin crew area, or somewhere else. This seat is the ideal space to sit with a lap baby, but also where you can use an airplane bassinet.
What are the benefits of a Bulkhead Seat?
Anyone can choose to sit in a bulkhead seat as the seat usually contains more legroom than any of the other airplane seats. That is also why this spot is chosen for wheelchair passengers and other people who need extra leg space.
Note that if there are wheelchair passengers on board, these people will receive priority over a parent with a lap baby. Another thing you do need to note is that this is the only airplane seat that can accommodate the bassinet package.
Pros of Booking a Bulkhead Seat
As we've mentioned, the bulkhead seat is a popular choice due to having more legroom. The following reasons are some of the benefits of booking a bulkhead seat.
You can book a bassinet for your baby.

Your baby would be able to sleep in an airplane bassinet which is much more comfortable for both baby and parent than flying as a lap infant.

There is extra legroom for your diaper backpack except during take-off and landing – but it's still reasonable.

You would be allowed to deplane first.

No need to worry about reclining from the seat in front of you

You'll get better access to the flight attendant.

It is easier to pass the baby between caretakers.
Cons of Booking a Bulkhead Seat
Although there are benefits to booking a bulkhead seat, the following are some of the reasons why you may want to reconsider booking this seat.
The armrest is generally fixed due to the stowage of the tray table.

You might have to stow baggage during take-off and landing. Therefore the carry-on might not be easily accessible.

The inflight entertainment monitor is stored in the fixed armrest; you might be unable to access inflight entertainment during take-off and landing.
Do all Airlines Provide Bassinet Seats?
Do all airplanes have baby bassinets? The straight-up answer is No! Not all airlines provide this feature.
If you are going on a short-haul flight, which is only about a few hours, you might have the opportunity to get an airplane bassinet. But if you are on a flight lasting about 6 hours or more, then the airline is more likely to have a baby bassinet available. However, you cannot know unless you ask.
You can always inquire about whether they have a provision for a baby bassinet while booking the flight.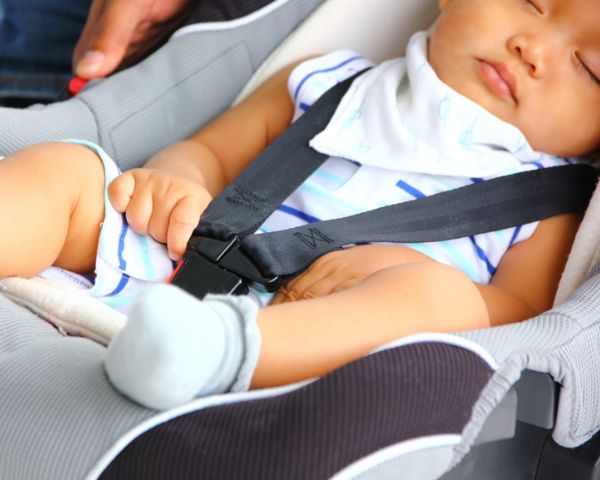 Additional Considerations when booking Airplane Bassinets
There are some additional considerations that you may need to take into account when booking an airplane bassinet.
Airplane bassinets come in different types and sizes. The distinct characteristics are due to the airline's provision. Therefore, if you have certain preferences, you should check with the facilities before booking to know what you'll be getting.

The design of the seat also does not differ much from each other. Yes, some features could vary, but the shape is most likely the same – rectangular with uplifted sides.

You may need to inquire about the airline's age requirements for their airplane bassinet. Some will allow a bassinet for babies between 6 months and 2 years, while others drop their age limit to a year and a few months.

There are usually weight restrictions for the baby bassinet. The general maximum weight allowed is 20 lbs so it's a sensible idea to weigh your baby when you enquire about the bassinet. Any baby that weighs more might not be allowed in the bulkhead seat attached carriage as it may be unsafe and less secure.

You need to consider if your baby is able to walk around. Some airlines consider this factor when assessing if you are eligible for a baby bassinet seat. Most babies that can walk or toddle around (regardless of if they are yet to reach 15 months) may not be allowed in the baby bassinet. The key is to inquire before booking.
How many Bassinet Seats in a Plane?
If you have more than one baby then you might be questioning, how many bassinet seats can I book on a plane? Or how many babies can you take on a plane? These are common questions for parents with twins or more children below 2 years old.
For example, if you are flying Delta Airlines, you are only allowed to carry one child on your lap through the flight – that being that you are 18 and above. You are required to purchase an additional seat for your second child and bring an FAA-approved child safety seat device.
However, when 2 parents are traveling together, you can travel with 2 lap infants. You may not be able to sit on the same row as most aircraft only permit one lap infant per row due to the limited number of infant oxygen masks. In most situations, one parent and one child will be separated and seated in a row across the aisle from the other or a separate row behind.
Airlines and flights differ so check Seatguru for the flight you're interested in booking to find out exactly what seatings are available. This helps you plan in advance and you will be able to work out what works best for you.
How to get a Baby Bassinet Seat
It's important you organize getting an airplane bassinet in plenty of time before your flight as they are not something that is usually readily available last minute. Follow the step-by-step guide below.
Book Early
Bassinets are usually limited; it is not like there is a provision for every passenger. That is why you need to book your slot early to secure the bulkhead seat and, of course, request a bassinet.
In addition to this, read the policies to ensure you are certain of the regulations and requirements. It includes the weight and age of the baby, how much (if there is a fee), and much more. A week before your flight, check with the airlines that you still have the bulkhead seat.
Confirm the numbers and other elements of the booking and be sure that you are all set for your trip. Though the call might take time, it is always worth it to confirm.
Follow Up
Many online resources stop at the booking step. Many don't know that you must follow up even after a reservation. Call a few days or a week again into your trip to confirm all the reservations you made weeks or months back. Many airlines tend to move bookings around, so if you really require baby bassinets, take the time to follow up and double-check.
What is the Cost of an Airline Bassinet?
If you are considering booking an airline bassinet for your next flight with your baby, you should be prepared for any potential additional costs. Costs of the bassinet vary between airlines and you'll likely be informed of any additional costs when you book.
With some airlines, the bassinet will be at no additional cost, but with others, they will require a supplementary fee. You will definitely need to upgrade to a bulkhead seat which will sometimes incur an additional charge.
Sometimes you will need to book into a premium seat to have the bassinet which will also cost you extra. When traveling internationally, you usually need to pay extra for an infant to board the flight, and sometimes a bassinet is included in this ticket price. Using airplane bassinets is usually cheaper than paying for a separate plane seat.
The exact costs of a bassinet depend on which airline and flight you choose so it's important to check with them.
Understanding different seating arrangements
The following are scenarios to help you understand the process of booking and using the airplane bassinets;
Scenario 1: Parents with a baby under a year old
If you have a baby under 12 months, you need to consider some things. You are limited to what seats you can book because the only airplane seat that can allow a bassinet is the bulkhead seat which is subject to availability.
The number of seats available on a plane varies, and you have to book early to secure your spot. If the airways you desire are booked out of bulkhead seats, you will either need to be prepared to fly with your baby on your lap or look for another airway to your destination.
Scenario 2: Parents with a baby under two
You alone with a baby: When your baby crossed the 1-year mark but cannot yet move around independently, they could be;
Crawling but not yet walking.

Sitting independently without support.

Wide awake for a few hours but still has a long sleeping time.

Older than 12 months but younger than 18 months.
Depending on your baby's weight and length, your baby may still fit the baby bassinet. However, when they are awake and can sit independently, they will require constant supervision to ensure they do not climb out of the bassinet. It is good to have the option of having access to airplane bassinets but keep in mind there may be a chance they would not fit the bassinet and end up sitting on your lap during the flight.
Other things to consider are whether your baby sits well in a car seat. If they are normally happy in their car seat, you may consider purchasing an extra seat and bring an FAA-approved car seat for them. This way you will have some confidence that they will remain in their seat for an amount of time.
You are alone with two babies: This is another responsibility added to you and can be stressful when you do it alone. However, another down breaker is that you cannot carry two children on your lap. This means you will have to pay for an extra seat for one of your babies. As long as they are under two years old, they will pay approximately 10% of the airfare. Check with the airline for pricing.
Two parents with babies: This is easier for everyone; when two parents are involved. If there's just one child, either of the parents can book the bassinet. If there are two children, both of you can request to book the baby bassinets.
Scenario 3: Parents with an Infant and a Toddler Over Two
Two parents with an infant and a toddler: If four of you are flying, the easiest configuration is to have one parent in the bulkhead seat with the lap infant, and the other parent in the second row with the toddler.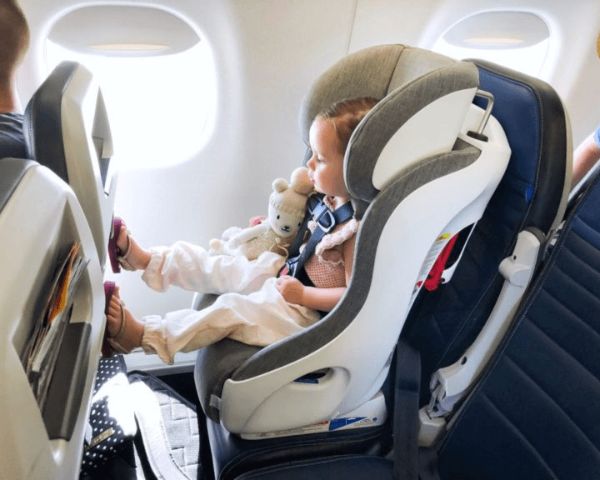 How to Use and Set Up The Bassinet
If you choose to book an airline bassinet for your next flight, you usually will not need to worry about setting it up. The cabin crew will have knowledge and experience using these bassinets and will set up and take down the bassinet for you.
Each airline has a different system and their crew will know how they work.
In some cases, there are fixtures on the bulkhead wall that the bassinet bed slides into or clips onto. This is a relatively quick bassinet setup that the flight attendants can do after take-off and before landing.
They will usually also provide sheets to make the bed more comfortable. Airplane bassinet seats also will have some sort of strap or cover to provide some security for the baby. It might not be a seat belt, but it will have a similar purpose.
If the airline doesn't offer bassinet covers, this could be a great addition for you to bring as a way of sheltering the baby and providing additional comfort. You can also bring a blanket for the baby to sleep with as this is another way to add comfort as well as remind the baby of home.
If you have any issues during the flight, your cabin crew will be more than happy to help.
Is it better to use an FAA-approved seat?
You might have heard of an FAA-approved seat as another way to add some comfort to your child during the flight, so you don't need to hold them on your lap. This could be a great option for some infants.
Let's take a look at the pros and cons of using an FAA-approved seat during your flight instead of choosing the airplane bassinet.
Pros of using an FAA-approved seat
Airplane bassinets do not have the same restrictions and safety measures as an FAA-approved seat. Usually, there is only a small strap to hold the baby in place and no sort of seatbelt. That is why you are normally not allowed to use the bassinet for take-off and landing and you may also be asked to take the baby out of the bassinet when there is turbulence.
An FAA-approved seat is no doubt a safer option for your baby over an airplane bassinet.
Not all babies will fit in the airplane bassinet. You must check the size requirements beforehand for your baby and the bassinet, but it may be difficult to tell without placing your baby in the cot. This might mean that your infant cannot stay in the bassinet or result in an uncomfortable journey.
Using an FAA-approved car seat for your flight means the baby can sit there through the entire flight, and you won't need to hold them for take-off and landing. This means you'll have more comfort and space for yourself throughout the flight.
If you use the seat at home in your car, then your child will be familiar with it. This means they'll be more comfortable and are likely to fuss and cry less.
Cons of using an FAA-approved seat
Although an FAA-approved seat may be appealing to some parents, there are still some reasons why you might prefer to choose the airplane bassinet.
With the seat, your baby will have to stay seated throughout the flight which might make it harder for them to sleep. The bassinet is essentially a bed that will be more comfortable for your baby. The FAA-approved seat is safer because of the seat belts used, but this also makes them less comfortable for babies to relax.
If you want to bring an FAA-approved seat on the plane then you'll probably will purchase a lightweight one. This might be a worthwhile investment if you use it in your car and fly frequently, but for most parents, this is an additional expense they might not deem necessary. You would also need to purchase a seat on the plane to place the baby seat, which may increase your flight costs exponentially.
With the airplane bassinet, you would only need to pay for the bulkhead seat and bassinet cost rather than a whole additional seat. Some airline regulations might permit against bringing your own seat as it may not fit safely into the airplane seats.
This is something you need to check before your flight if you are considering opting for an FAA-approved seat over an airline bassinet.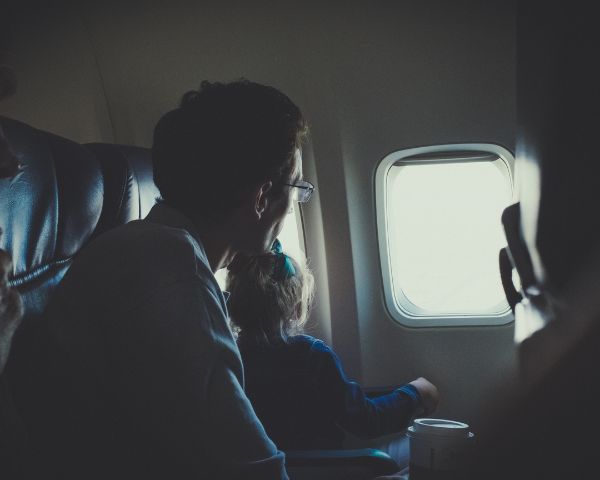 Which Airlines Offer Bassinets?
We'll take a look at some of the major airlines across the world and if they offer airline bassinets. It's important to remember that bassinet availability might depend on the plane you are flying with and if it's a long-haul flight or a domestic flight.
We hope to give you some guidance, but it's always best to call the airline to check before you book your flight.
North America
Air Canada
Air Canada provides bassinets for infants weighing less than 12kg and who cannot sit upright yet. They only have them on selected planes and limited availability so you must contact their reservation teams ahead of your flight and booking to get one.
Alaska Airlines
Unfortunately, Alaska Airlines does not offer baby bassinets. Although they do allow and recommend you bring a car seat for your baby or child.
American Airlines
American Airlines does offer airline bassinets. They are only limited on a first come first basis and if your flight is departing from selected gates with the 787 aircraft. You cannot book a bassinet in first or business class.
Delta Air Lines
With Delta Air Lines you have the option to book a baby bassinet. You can book this if your infant weighs up to 9kg ad is less than 66cm long. Delta Air Lines call their bassinets, SkyCots which are available on some aircraft for some international flights. If you book a SkyCot, it is free of charge and included in the price of your seat. There is a limit of two SkyCots per plane so you must enquire and book in advance.
Frontier Airlines
You cannot get an airline bassinet with Frontier Airlines. If you are flying with them, you are encouraged to bring an FAA-approved seat for your child.
JetBlue Airways
If you are flying with Jetblue Airways, you cannot book a bassinet as they do not have any. Their policy is one lap infant per adult, per group of seats and on some long haul international flights, the total number of lap infants may be limited.
Southwest Airlines
Southwest Airlines do not offer baby bassinets. They strongly advise on bringing an FAA-approved car seat for infants less than 18kg.
WestJet
You are able to book a baby bassinet on a WestJet flight. They offer them on the 787 Dreamliner aircraft. There are a few restrictions that you need to consider such as the bassinets are only for the bulkhead seats, which do not have any under-seat storage and your infant must be less than 9kg.
South America
Avianca
You can book a bassinet when you fly with Avianca. Your baby must be less than 1 year old, 74 cm tall, and 11kg. You can request the flight crib by contacting the airline but keep in mind they only have 3 available per aircraft so you need to book in advance.
LATAM Airlines
LATAM Airlines offer bassinets for infants in their economy cabins. The baby cannot be heavier than 10kg and must be shorter than 71cm. You can request a bassinet as little as 4 hours before your flight, but we would always recommend enquiring before booking your flight.
Europe
Aer Lingus
You are able to request a bassinet on Aer Lingus flights. They do need to be pre-booked as they have a limited number of bassinets.
Aeroflot Russian Airlines
Aeroflot Russian Airlines offer bassinets that can be booked at least 36 hours before the flight by calling the airline. It is not guaranteed, which is why we always suggest checking before booking.
Air France
For long haul flights with Air France, you can request a bassinet in the business, premium economy, and economy cabins. Infants must be less than 10kg and 70cm.
Austrian Airlines
Austrian Airlines offer baby cots for long haul flights. You will need to book the bulkhead seat but the bassinet is free of charge.
British Airways
On British Airways flights, you can book a bassinet or infant seat until your child is 2 years old. For the bed, the baby must be less than 6 months old and less than 8kg. For the infant seat, your child must be less than 2 years old and less than 12.5kg.
EasyJet
You cannot book a bassinet on an EasyJet flight. Your child must be at least 14 days old to fly with them but you can board early when flying with a baby.
Lufthansa
You can request a bassinet with Lufthansa flights up to 52 hours before the departure. However, the number of bassinets on board is limited so it's best to book way in advance.
Norwegian Air
You are allowed to bring your own seat onto a Norwegian Air flight as long as it meets safety requirements but they do not offer bassinets.
Ryanair
You cannot book bassinets on Ryanair flights. Your child must be at least 8 years old to fly with them and children over the age of 2 must pay an adult fare.
Swiss
Flights with Swiss airlines offer a bassinet for your baby. They are for long haul flights only, babies no older than 8 months and weighing less than 11kg.
TUI
TUI does not offer bassinets so you will need to sit with the child on your lap for the duration of the flight.
Vueling Airlines
Flights with Vueling Airlines do not get bassinets, however, you will receive an infant seat belt and have priority boarding.
Australia
Air New Zealand
Air New Zealand offers a bassinet for baby passengers. They supply seats and pillows for extra comfort. Your baby must be less than 11.8kg and no longer than 73cm.
Jetstar
You can book a bassinet on a Jetstar flight for the 787 Dreamliner aircraft and only for international flights. If you do want to book a bassinet on this flight, you will need to do so in advance due to limited availability.
Qantas
Qantas has a limited number of bassinets available but you can book one if your child is less than 71cm long and under 11kg.
Virgin Australia
Bassinets are not available on Virgin Australia flights, but you are able to bring your own devices as long as they meet the requirements.
Asia
Emirates Airline
You can use a baby bassinet on an Emirates flight. You can book online but you must book a special seat to have one.
Qatar Airways
Qatar Airways provides airplane bassinets providing you meet their requirements. You should request this in advance of your flight take off.
Saudi Arabian Airlines
Saudi Arabian Airlines do not offer bassinets and they have some medical requirements you need to consider when flying with a baby.
AirAsia
Bassinets are available for flights with AirAsia. They are not on every aircraft so contact a representative if you would like to book one for your flight.
Air China
You can request a bassinet on an Air China flight. There are only 4 bassinets per flight so you need to book it in advance.
ANA – All Nippon Airways
You can get a bassinet on an ANA flight if you book in advance by calling them.
Asiana Airlines
You may reserve a bassinet on an Asiana flight and you can also bring your own if you wish.
Cathay Pacific
You may book a baby bassinet on a Cathay Pacific flight, as they are available on most of their aircraft bar one. Check the availability when you book your fight.
Cebu Pacific Air
You can get a baby bassinet when you book a bulkhead seat on a Cebu Pacific Air flight. It's essential you pre-book the bassinet seat.
China Airlines
China Airlines have a limited number of baby bassinet seats but you can book them subject to availability.
Garuda Indonesia
You may book a bassinet service with Garuda Indonesia. They are available on most flights and are free of charge.
Hainan Airlines
Hainan Airlines provides a bassinet service on international flights where a wide-body aircraft is used. Your baby must be no longer than 72cm and weigh less than 11kg.
Japan Airlines
You may book a bassinet service on Japan Airlines but they are limited so need to be booked in advance.
Korean Air
Korean Air offer airplane baby bassinet options which can be booked through their call center or a travel agency.
Singapore Airlines
With Singapore Airlines you can book airplane bassinet seats in premium and economy cabins. They are limited and should be booked in advance.
Thai Airways International
You may book a baby cot on Thai Airways International for infants less than 6 months old and weighing less than 10kg.
Vietnam Airlines
Bassinets for infants are available on Vietnam Airlines flights. They are free of charge an can be booked for children under the age of 2 years old.
Africa
South African Airways
As long as your baby is less than 10kg and 75cm long then you can get a baby airplane bassinet on South African Airways flights.
Ethiopian Airlines
Inflight bassinets are available on Ethiopian Airlines flights. They are at an extra fee and are subject to availability.
EgyptAir
You can request a bassinet on an EgyptAir flight. You will need to book the bulkhead seats to accommodate the baby cot.
Kenya Airways
On Kenya Airways flights, baby flight cots are available for free of charge as long as your baby is under 11kg.
Tunisair
Tunisair does not provide bassinets on their flights, but you are able to bring your own seat as long as it fits their requirements.
Royal Brunei Airlines
Bassinets are available on flights with Royal Brunei Airlines when you travel in economy on selected aircraft.
Royal Air Maroc
A baby cot is available on a Royal Air Maroc flight. Reserve one for your long haul flights.
Bassinet Airplane: Tips for Flying with Bassinet on Plane
Here are four quick tips to help you have a smooth flight when you are taking your baby on your next trip using the airplane bassinet.
Bring your child's favorite blanket.
Having your baby cry and fuss so hard before sleeping on a plane is not just stressful; it is also frustrating and exhausting. So save yourself the headache and bring along whatever your child loves to snuggle with.
Wipe it down
Though you might think the attendants cleaned up the baby bassinet for you, it is better to be safe. Just as you would wipe your seat before sitting on it, clean the basket before putting your baby in it.
Use White Noise
Playing loud lullabies or singing for your baby while on your flight may be uncomfortable. Research has shown that white noise increases sleep probability by 38%. Therefore, download white noise apps on your phone and play them for your baby to induce sleep.
Cover the Bassinet
You cannot control how many distractions will happen during the flight. What you can control is how much your baby gets to see. The covering acts as a medium to reduce stimulation – almost eliminating it. Hence, providing your lap infant with a similar environment to their home bedroom.
Book and Secure Airline Bassinet Seat with Confidence
That is all there is to it – everything you need to know about airline bassinets. They are cots for babies attached to the wall in front of a bulk seat. However, if your baby weighs over 20 lbs or crosses 18 months to 2 years, the sky cot is usually not available.
Another alternative would be to book another seat and use an FAA-approved seat belt. Some scenarios might alter your booking arrangement but at the end of the day, you still have to book early. Make sure to check with the airlines too because only a few airlines provide bassinets.
If you have any questions, you can call the airline attendant and call your questions would be answered.
Have a safe and happy flight and we wish you all the best of look if you do travel with an airline bassinet.
If you are considering flying with breast milk, check out our blog here for more information on how to travel with breast milk.
Traveling with a stroller? Read here for information on flying with a stroller.